I am pretty predictable with my sites that I visit daily...
Blogger
Because I try and write a little everyday...
Bloglovin
Cause I like to read everyone's posts! It is my favorite thing to do!
Follow me
here
!
Pinterest
I mean...enough said?!?
Check out my Pinterest
here
!
Youtube
This is how I listen to most of my music. I just like to pick a song and go! This is the song I used this morning to get my up and on the go!
Honorable Mentions:
Yelp
, Facebook,
Twitter
,
Instagram
(is that a site?!), and Gmail!
Okay that was totally predictable. Wanna go to some fun sites I like? Try these:
The Good Life
Gabba Gabba Gorgeous
Highest Heels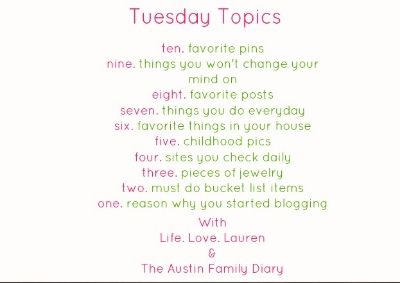 Or how about some bloggers I visit on the daily? The ones below!!! Link up with us and have some fun!